Farmworker Health and Justice Team
We campaign for better working conditions, stronger health and safety regulations, and reduced toxic chemical exposures for farmworkers. Our collaborative working group- which includes farmworker advocates, healthcare professionals, health experts, scientists, and attorneys- is guided by the priorities and needs of farmworkers.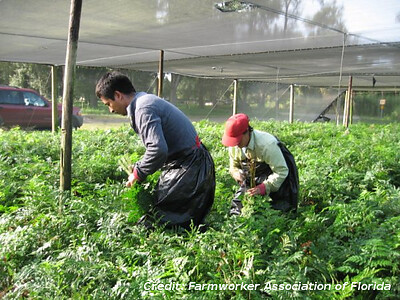 As we purchase food, Americans need to consider the harsh reality farmworkers face. Working outside, often in extreme heat for long hours, sometimes without access to shade, water, or restrooms—farmworkers labor in difficult and dangerous conditions.
Farmworkers routinely come in contact with pesticides and other poisonous agricultural chemicals. In California alone, several hundred reports of farmworkers poisoned by pesticides are logged each year—and the illnesses reported nationwide are thought to be the tip of the iceberg. Nationally, there is no system to track reports of farmworkers poisoned by pesticides—but the number is thought to be in the tens of thousands.
In addition to immediate poisonings, farmworkers face long-term health impacts, such as elevated risks of cancer, birth defects, infertility, and neurological disorders as a result of exposure to hazardous pesticides. Farmworkers also "take home" pesticides on their clothing, footwear, and skin, exposing their families to these hazardous chemicals and their associated risk of causing sickness and other health impacts. Farmworkers are also exposed to many of the same toxic chemicals as the rest of us: in household products, in the food we eat, in drinking water, and pollution from chemical plants.
Better policies and corporate practices to protect people from pesticides are essential to ensure a healthier and more just future.
Key resources from experts and organizations in our network:
Exposed and at Risk: Opportunities to Strengthen Enforcement of Pesticide Regulations for Farmworker Safety (Report by the Center for Agriculture and Food Systems at Vermont Law and Graduate School, in partnership with Farmworker Justice, September 2022)
Pesticide Exposure and Childhood Cancer (Factsheet by Cancer Free Economy Network and Childhood Cancer Prevention Initiative, July 2022)
The Climate Crisis and Its Impacts on Farmworkers (Issue Brief by Farmworker Justice, May 2022)
Pesticides and Environmental Injustice in the USA: root causes, regulatory reinforcement and a path forward (Open access published study in BMC Public Health, by Nathan Donley, Robert Bullard, Jeannie Economos, Iris Figueroa, Jovita Lee, Amy K. Liebman, Dominica Navarro Martinez, and Fatemeh Shafiei, April 2022)
Farmworkers at Risk: The Growing Dangers of Pesticides and Heat (Report from the Union of Concerned Scientists, November 2019)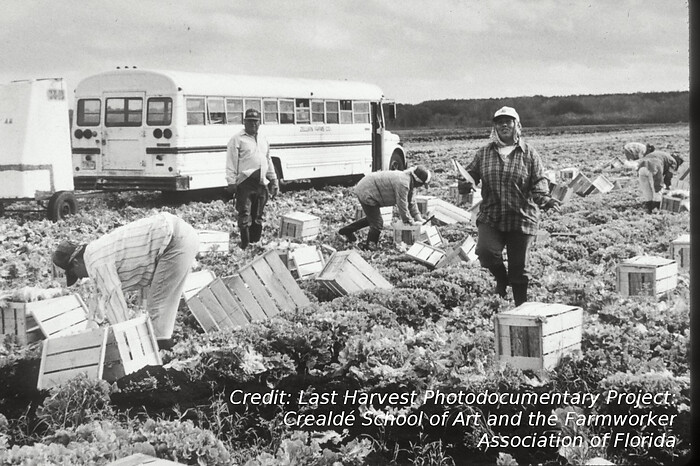 Farmworkers in the fields of central Florida