Safe Products and Stores
Pushing manufacturers and retailers to replace toxic chemicals in consumer products with safer alternatives
The Campaign for Healthier Solutions calls on dollar stores to stock nontoxic products and healthier, local foods.
---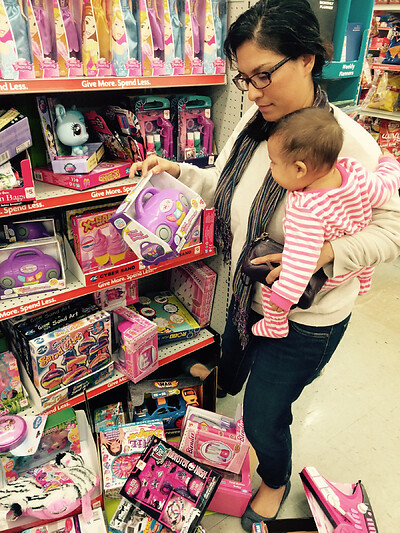 Dee Arellano is a community health worker and mother of a young child. She's from Houston, and like other residents of the Gulf Coast she faces the danger of a devastating hurricane every year. This danger is becoming worse as extreme weather events linked to climate change continue to increase. Dee and her team at T.E.J.A.S. mobilized following Hurricane Harvey in 2017 to offer resources to impacted communities. The hurricane caused a historic flood, which led to the release of millions of pounds of toxic chemicals into the air and water from refineries and chemical facilities—including the Arkema Chemical Plant Explosion in Crosby, TX.
Following a natural disaster like Hurricane Harvey, communities organize themselves to pull together necessities like food, water, toiletries, clothes, and commodities that ease the transition from pre-storm to a new normal. Many people find it affordable and convenient to rely on dollar stores to stock up prior to these disasters, and restock after, but toxic chemicals in many of these products pile-on to other chemical exposures families face—both in emergency situations and in everyday life.
Toxic lead in children's toys; hormone-disrupting bisphenol-A (BPA) in canned food or plastic baby bottles and sippy cups for toddlers; harmful chemicals and allergens widely used in household cleaning products and in shampoos, lotions, and makeup—our exposure to hazardous chemicals in everyday products is pervasive.
The products and food we bring into our homes to be used by our families could contain any of 100,000 different synthetic chemicals, most of which are untested and unregulated. Scientific evidence has shown that our homes, schools, and workplaces contain chemicals that escape from these products, and our bodies are polluted by chemicals that we breathe in, absorb through our skin, and eat or drink in foods. Pregnant women are especially vulnerable, and infants are routinely found to be born pre-polluted with over 200 industrial chemicals that they've already absorbed from their mother's exposures. Workers in the petrochemical industry, manufacturing plants, and even retail stores also face additional workplace exposures. These invisible exposures may haunt parents who are concerned about developmental delays or behavioral and learning disabilities. Decades of research shows that exposure to even tiny amounts of many chemicals can trigger chronic diseases and health disorders, either immediately or much later in life.

"How can we stay healthy and safe if the very products we need to get us through hardships are also laden with toxic chemicals? How can we be sure that our communities are purchasing safe and healthy products both before and after a disaster?" — Dee Arellano, Houston, Texas
For more than fifteen years, Coming Clean has coordinated campaigns involving dozens of local, state and national partners and experts to win public laws and corporate policies to remove harmful chemicals from the market and promote safer alternatives. To make this happen, Coming Clean builds principled collaborations from the bottom up, starting with the the priorities and leadership of the most impacted people and communities, and uniting them with policy advocates, science and health professionals, business leaders, investors, workers, and other allies—to create sophisticated campaigns that win real change.
Learn more about Coming Clean's work for safer products: