May 29, 2019

Release: Toxic Chemical Activists Pressure Dollar General Executives

Press Release


Dollar General Executives Meet with Activists to Consider Product Hazards but Have Yet to Enact Any Public Chemicals Management Policies

For Immediate Release: Wednesday, May 29, 2019

Contact:
Eric Whalen, (971) 998-8786
Jose T. Bravo, (619) 838-6694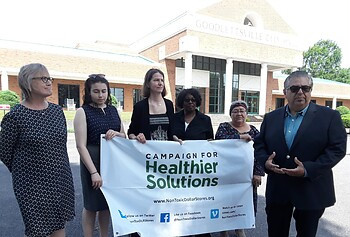 Nashville, TN — A coalition of health experts, parents, and concerned customers attended Dollar General Corporation's annual shareholder meeting and urged the national discount retailer to take action to protect customers from toxic chemicals found in products, toys, and food [1, 2, 3] sold by the chain. After purchasing shares to gain access to the meeting, these customers and experts shared their concerns directly with executives and some of the corporation's top shareholders and encouraged steps toward publicly accountable chemicals management policies as other retailers have already done. These activists held a brief meeting with the Dollar General executive team following the shareholder activities but no new actions toward customer health and safety were announced.
"Our communities are overwhelmed by toxic chemicals and starving for healthy food," said Jose Bravo, National Coordinator of the Campaign for Healthier Solutions. "Dollar General can play a vitally important role in some of our nation's least-healthy communities, and it starts by offering nontoxic products which don't add to the chemical pollution we already suffer and fresh fruit and vegetables so people have the most basic opportunity to choose to stay healthy."
"Our testing has revealed phthalates linked to lower IQ and ADHD in children's products, heavy metals in toys and plastics, BPA in canned food, and even PFOS in popcorn," said Tracy Gregoire, who works with the Learning Disabilities Association of America. "It's unacceptable to sell products containing toxic chemicals linked to learning and developmental disabilities, and Dollar General's executives alone have the power to get toxic chemicals out of their supply chain."
Dollar General Corporation operates over 15,000 stores across the United States, and the retailer's size means that any steps to reduce toxic chemical use will have far-reaching impacts on public health and the environment—from the manufacture of product constituents to product disposal. A major competitor of Dollar General is Dollar Tree Stores Inc., which recently announced it will join the Chemical Footprint Project, an international program which helps companies understand market-risk from toxic chemical use, which then helps them quantify incentives for moving to safer alternatives. Dollar Tree's decision leaves Dollar General at the starting line when it comes to chemical hazards. Although the dollar store market sector still lags far behind retailers who cater to more affluent customers, there are signs that dollar stores are moving with increasing speed to enact publicly-accountable policies to protect their customers and workers from hazardous chemicals.
"At first, many companies view reducing the use of hazardous chemicals as challenging and it's unclear what the benefits are to them," said Beverley Thorpe of Clean Production Action. "However, once companies and retailers get started on knowing chemicals in their products and screening them to replace chemicals of concern with safer chemicals, they will reduce their business risk and find benefits to their management systems, brand reputation, and consumer satisfaction. In addition, investors are now assessing companies on their efforts to go beyond regulatory compliance and set metrics to reduce their chemical footprint."
"Toxic chemicals in dollar store products are more than just a matter of reputation and profits for companies: it's a justice issue," said Pam Nixon, who works with People Concerned About Chemical Safety. "Communities of color and low-income people already face higher levels of environmental pollution and its resulting health impacts, and we need retailers like Dollar General to accept more responsibility for the health of their customers--not just the wealth of their shareholders."
Product testing results which have found toxic chemicals in numerous dollar store products are of particular concern to people of color and low-income communities as they disproportionately rely on these stores for food and household products. Also, studies have shown people of color and the poor are often already exposed to environmental chemical hazards at higher levels.
"We want Dollar General Stores to be part of our community but we don't want them to take advantage of us by selling toxic products and unhealthy food," said Helga Garza, who works with the Agri-cultura Network. "Every child deserves safe and healthy food, and our communities deserve at least the opportunity to buy fresh fruits and vegetables; it's the least any business partner who cares about our health over their own profits should do."
Following the shareholder meeting, these members of the Campaign for Healthier Solutions said they will continue educating shoppers about hazardous chemicals in Dollar General's products. They said they plan to keep pushing the chain's executives until the company enacts publicly accountable hazardous chemicals management policies and extends its program of selling fresh fruit and vegetables to stores located in areas deprived of healthy food. The activists aren't calling for a boycott, but rather, they want Dollar General to make a more positive impact on the health and well-being of their customers, workers, and disproportionately impacted communities.
###
Photos and videos are available upon request.
The Campaign for Healthier Solutions is a diverse coalition of over 100 environmental justice, medical, public health, community, and women's organizations working with discount retailers toward responsible hazardous chemical policies and better corporate citizenship. Learn more at NontoxicDollarStores.org.