May 6, 2019

Release: Dollar Tree Moves To Address Toxic Chemicals in Products

Press Release


After Years of Pressure, Health and Environmental Justice Organizations Celebrate Progress but Warn Dollar Store is Still Short of Protective Policies

Contact:
Eric Whalen, (971) 998-8786
Jose T. Bravo, (619) 838-6694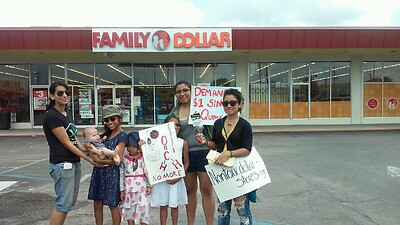 San Diego, CA — One of the nation's largest discount retail chains, Dollar Tree Stores Inc, which also owns Family Dollar Stores, has taken an important step toward increased health and safety for customers by joining the Chemical Footprint Project, a bench-marking metric that helps companies assess their market risk from toxic chemicals and understand the opportunities for safer chemicals in its supply chain. This decision may carry important implications for public health, consumer rights, and Dollar Tree's extensive supply chain, as the discount retailer is a Fortune 200 company which operates over 15,000 stores across the United States and Canada. Grassroots justice groups from person-of-color and poor communities dependent on dollar stores cheered this step toward quantifying toxic chemical risks—but also warned it falls short of a more complete, transparent and protective toxic chemical policy, which should include public disclosures and specific goals to reduce hazardous chemical use. They were joined by national public health and product safety organizations in celebrating this progress.
"Poor families and average Americans, many of whom shop at Dollar Tree for food and products, have good reason to celebrate Dollar Tree's decision to join the Chemical Footprint Project," said Jose Bravo, National Coordinator of the Campaign for Healthier Solutions. "While this is an important step toward less cancer, fewer learning and developmental disabilities, and healthier communities, we'll continue to encourage Dollar Tree to develop a complete toxic chemicals policy which is fully transparent to the public, and to stock fresh and healthy foods so that people in food-deprived areas have choices."
"Everyone has a role to play in preventing Breast Cancer," said Janet Nudelman, Director of Program and Policy at Breast Cancer Prevention Partners. "Thank you Dollar Tree Stores, Inc. for becoming a part of the solution—and raising a new high bar for the nation's other discount retailers—by joining the Chemical Footprint Project."
The Campaign for Healthier Solutions has been putting pressure on Dollar Tree to eliminate toxic chemicals from its supply chain since early 2015 with the release of product testing results which found high levels of heavy metals in children's costume jewelry, phthalates in silly straws, and other toxic chemicals at potentially dangerous levels in numerous products. The campaign also worked with partners to test food products purchased from Dollar Tree and found high levels of arsenic in infant rice cereals, microwave popcorn containing per/polyfluoroalkyl substances (PFAS), and bisphenol-A (BPA) in canned food. These product testing results are of particular concern to people of color and low-income communities, which are more vulnerable to harm from toxic chemicals in dollar store items because they disproportionately rely on these stores for food and household products. Also, studies have show people of color and the poor are often already exposed to environmental chemical hazards at higher levels.
"Knowing how to reduce the use of hazardous chemicals is not as difficult as it might seem," said Beverley Thorpe of Clean Production Action. "Feedback from companies who have already begun measuring their chemical footprint highlights the added value this brings to a company's overall management systems."
Dollar Tree executives have progressively responded to pressure from The Campaign for Healthier Solutions by taking incremental steps toward improved safety measures for customers, first with an announcement to phase out 17 highly hazardous toxic chemicals from products it sells by 2020. While falling short of a complete, transparent, and protective corporate chemicals policy, public health and environmental justice advocates celebrated Dollar Tree's decision to join the Chemical Footprint Project and their request for more information from the company's supply chain, which signals it may be joining some of the nation's most active retailers when it comes to protecting customers from chemical hazards. Jose Bravo noted that Dollar Tree has many options to move forward and strengthen its commitment to protecting customers from hazardous chemicals, and a good next step would be to publicly disclose all ingredients in its house brand, Greenbrier International products.
"Joining the Chemical Footprint Project is a great first step by Dollar Tree, said Michael Green, CEO with the Center for Environmental Health. "Now, their next move should be to take real and measurable action to protect our health from toxic chemicals in the products they sell."
"Dollar Tree appears to be doing their homework when it comes to protecting consumers from toxic chemicals," said Mike Schade, Mind the Store campaign director with Safer Chemicals, Healthy Families. "Although the company, which also owns Family Dollar Stores, has scored a 'D' letter grade in our past two Retailer Report Cards, they appear to be joining a growing list of retailers taking more aggressive action on chemicals—and demonstrating their interest in earning better grades."
Dollar Tree's announcement positions the chain as the leader in toxic chemical protections among major dollar stores—leaving the nation's other two major discount retailers at the starting line. Dollar General (on-par in size with Dollar Tree) and 99 Cents Only Stores have yet to announce any publicly accountable corporate toxic chemical policies to protect customers and their families. As a market sector, discount retailers still lag far behind other sectors which cater to more affluent customers.