February 11, 2020

Release: 99 Cents Only Stores Lagging Behind Other Dollar Stores in Phasing Out Harmful Chemicals, Say Protesters Outside Company HQ Today

Press Release
#nontoxicdollarstores #99Obsessed
CONTACT: Glenn Turner, glenn@ripplestrategies.com, 917-817-3396
Shayna Samuels, shayna@ripplestrategies.com, 718-541-4785
(Los Angeles, February 11) -- Protesters gathered outside 99 Cents Only Stores headquarters today in Commerce, California, demanding that the discount chain stop selling products with toxic chemicals linked to birth defects, cancer, learning disabilities, and other serious illnesses. The communities served by 99 Cents Only Stores are predominantly people of color and low-income, already disproportionately exposed to environmental harm and suffering from economic and health disparities.
"Every child deserves safe and healthy food, and every community deserves business partners who prioritize health," said Jose Bravo, National Coordinator for the Campaign for Healthier Solutions (CHS), made up of over 140 community, health, and environmental justice organizations nationwide that organized today's rally. "As one of the largest franchises of discount retailers in the country, we believe 99 Cents Only Stores has a responsibility to protect its customers, workers, and the communities it serves by phasing out chemicals of concern from products."
This month marks five years since the Campaign released a report finding that over 81% of products tested from Dollar Store chains (including 99 Cents Only Stores) contain toxic chemicals. Since then Dollar Tree and Dollar General have followed through on communicating with the Campaign, and have plans to phase-out some of the most dangerous chemicals. 99 Cents Only Stores, however, has made zero progress, including not following through on COO Jason Kidd's public commitment last year to meet with the Campaign. (See Dollar Store Comparison Chart at the end of this press release or download at our website.)
Independent laboratory testing of products purchased at 99 Cents Only Stores have discovered items such as costume jewelry and toy cars containing high levels of heavy metals linked to learning and developmental disabilities; food staples like microwave popcorn containing per/polyfluoroalkyl substances (PFAS); and bisphenol-A (BPA) in canned food. Despite these findings, 99 Cents Only Stores has yet to announce any public chemicals management actions or policy (as competitors Dollar General and Dollar Tree have already done).
"Dollar stores are often a primary source of food, personal care and household products for communities of color and millions of poor Americans," said Elijah Butterfield, Environmental Justice Fellow at the Center for Environmental Health. "We need to fight to ensure that all people have equitable access to healthy food and products."
Today, protesters urged the company to: 1. Keep their promise of a meeting with the Campaign for Healthier Solutions; 2. Adopt an initial chemical management policy, and 3. Stock their shelves with healthier, nontoxic products.
In a recent ranking of retailers on toxic chemicals, Mind the Store and CHS gave 99 Cents Only Stores an F grade for failing to publicly address toxic chemicals that may be in the products it sells. It was one of nine retailers out of 43 in the review to score zero points, leading the report card's Toxic Hall of Shame. Another report by Healthy Babies Bright Futures found that 99 Cents Only Stores carries baby food with toxic heavy metals including arsenic, lead, cadmium, and mercury. Each of these contaminants is notably poisonous at high doses, but is also harmful in just trace amounts in food.
"Communities are experiencing negative health impacts all along the life cycle of toxic chemicals, with children bearing the greatest burden of risks for developing chronic diseases and low cognitive function," said Paula Torrado Plazas, Air and Toxics Policy Analyst at Physicians for Social Responsibility, Los Angeles. "We need community-driven solutions that protect already overburdened frontline communities from the health threats driven by our toxic economy."
Robina Suwol, Executive Director of California Safe Schools added: "Our schools and communities need places to purchase low-cost school supplies and arts and crafts materials, but not at the cost of their health, and especially not with products that contain highly toxic chemicals linked to learning and developmental challenges. The 99 Cents Only Stores need to step up to the plate and make health and safety a priority for all products sold in their stores."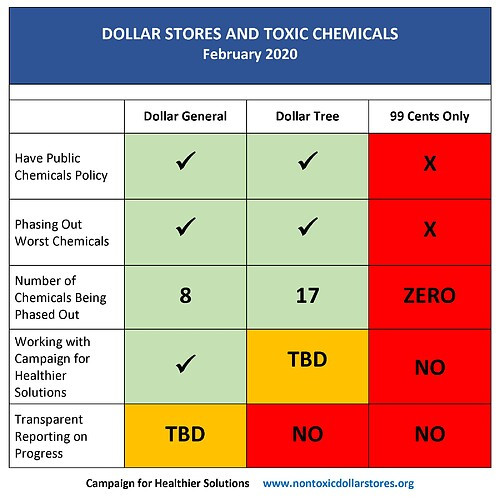 # # #
The Campaign for Healthier Solutions (CHS) was formed by Coming Clean and the Environmental Justice Health Alliance and is supported by over 140 community, health, and environmental justice organizations across the country. CHS encourages dollar store chains to protect their customers and the communities in which they operate - and grow their businesses - by implementing corporate chemical policies to identify and phase out harmful chemicals in the products they sell, and stock locally and sustainably grown healthy foods.