There are over 12,000 high-risk chemical facilities in America — and roughly 40% of U.S. residents live within three miles of one or more of them. That means more than 124 million people are living every day with the threat of chemical leaks, spills, and explosions that imperil their families' health, safety, and ultimately, their lives.
The people who live in these "Fenceline Zones" are disproportionately Black and Latino, and the poverty rate in these communities is much higher than the rest of America.
It's these vulnerable communities that are most heavily impacted by the dangers of nearby chemical facilities, which have already caused thousands of fires, explosions, and chemical spills, tens of thousands of injuries, and even deaths. That's an average of one incident every other day in America — and it will continue unless we act now.
Who's in Danger?
Our study shows that people of color and the poor are far more likely to live near chemical facilities that threaten their lives — on top of the pollution and health impacts they face every day from these facilities, and the lower housing values, income levels, and education levels in these areas.
Learn more about our demographic analysis here.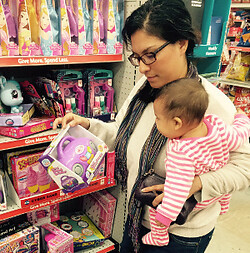 Toxic Toys and Dangerous Discounts at the Dollar Store
. Independent laboratory testing of children's toys, household products, and even food sold at dollar stores has often found toxic chemicals at alarming levels. The Campaign for Healthier Solutions is working to make sure every family has access to safe and nontoxic products—no matter where they can afford to shop.
Learn more about the campaign
, or read
our product testing study here
.