Farmworker Health and Justice Team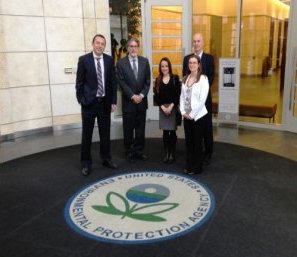 Farmworkers visited Washington, DC in July 2013 to advocate for stronger protections.
Farmworkers are the backbone of society: supplying crops for food, energy, and consumer products. These communities are vital to the survival of the country, national security, and our food autonomy as well as to those receiving aid from the U.S. around the world. Yet farmworkers are not involved, and often not even considered, in decisions and policies that subject them to substandard working conditions and toxic pesticide or chemical exposure.
Coming Clean's Farmworker Health and Justice Team is comprised of dozens of local, state, regional and national pesticide and farmworker justice organizations. The team is campaigning for better working conditions and better health for farmworkers by reducing toxic agrichemical exposures, empowering farmworkers to speak and advocate for themselves, and demanding policy reforms to address the health and wellbeing of the most under-represented among us.  In October 2015 the Team won a tremendous victory:  passage of a stronger Worker Protection Standard for farmworkers, that will increase immediate protections for workers and their families.  
Though pesticides are regulated differently than most other industrial chemicals, the impacts of these toxics on our bodies is very similar.  And people impacted by pesticides are also exposed to many of the same toxic chemicals as the rest of us: in household products, in the food we eat, and from manufacturing sources.  Therefore, better policies and corporate practices regarding pesticides are essential to ensure a healthier and more just future.
For more information on Coming Clean's  Farmworker Health & Justice Team campaigns, see ProtectFarmworkers.org.