Movement Building
Building a diverse, open-source movement that shares knowledge and power through transparent decision making and mutual support.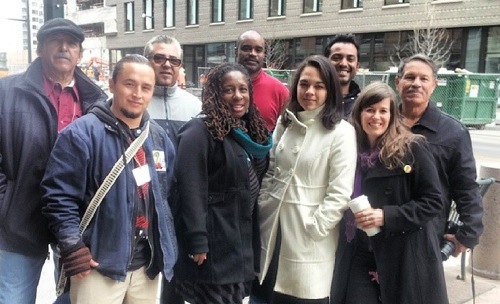 Leaders from the environmental, health, and justice movements, including local and national organizations, united to launch Coming Clean in 2001 in order to create a collaborative and inclusive dialogue spotlighting the chemical industry's poisonous practices, and to find strategic paths to justice.
We knew that reorienting our economy toward safety and sustainability, and achieving our mission to reforming industries to truly protect our health and the environment, would require unity, deep trust, and mutual respect among all parts of the movement.
Coming Clean is committed to tackling difficult issues of equity and access to resources and power, within our own organization and throughout the broader movement.  We believe this is necessary not only to stay united ourselves and with our partners, but it is also necessary to advance our mission.  We've created a forum for, and hosted deep (sometimes difficult) conversations to confront and solve problems of justice and equity.  We are focused on being a place where all people are valued, and where commonly marginalized voices can be heard.
Coming Clean allows new information and ideas to find resonance in grassroots, market and policy campaigns; we  make consensus-driven strategic campaign decisions; and raise funds in an open and transparent manner.  We share credit for our collective accomplishments broadly and exercise equity and justice internally -- while we seek justice in government and our society.  This is how we achieve a healthy future for everyone.

"The real magic of Coming Clean is its networking structure; bringing together the best and most active environmental, health, justice and advocacy groups in the country to hit bigger targets and get bigger wins.  We leave our egos and competition at the door, and instead focus on building collective power."
Gary Cohen, Health Care Without Harm