Environmental Justice Workgroup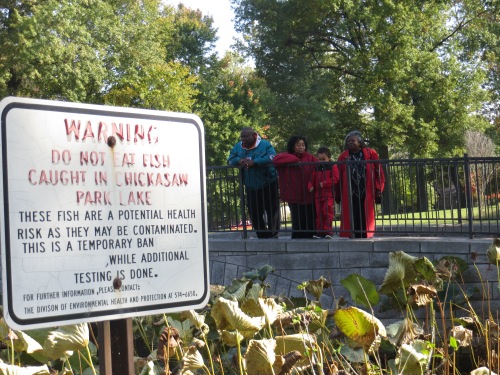 The Principles of Environmental Justice hold that all individuals and communities should be considered equally, and tangibly involved in the development, implementation, and enforcement of laws, regulations, and policies that affect them. Unfortunately, the chemical and energy industries – and their waste, pollution, and health hazards – disproportionately target and impact communities of color, Indigenous, and low-income communities. These communities along the "fencline" of industry are often exposed to multiple hazards at high levels and and have the least resources and influence to respond.
The Environmental Justice Workgroup organizes direct engagement in industry reform strategies by contaminated communities and promotes environmental justice outcomes. The Workgroup hosts a network and policy platforms engaging over 40 groups from more than 10 states in advocacy for communities and populations that are disproportionately impacted by toxic chemical exposure through legacy and ongoing "fenceline" contamination, and from specific product exposure pathways. The network model features leadership of, by, and for environmental justice groups with participation and support by additional allied groups. 
The Environmental Justice Workgroup supports diverse movement towards safe chemicals and clean energy that leaves no community behind.
"It's a privilege to work in partnership with Coming Clean's EJHA network. These are the life-changers, dream-shapers, world-shakers."
Current Activities
Engaging community groups in Toxic Substances Control Act reform campaigns with Safer Chemicals, Healthy Families, the Environmental Protection Agency, and legislators.
Hosting intergenerational, multi-ethnic strategy gatherings on policy, grassroots organizing, economic justice, and market actions.
Testifying at, and mobilizing turn out for the 2014 National Environmental Justice Advisory Council meeting.
Participating in meetings of the U.S. Interagency Working Group on Environmental Justice, the National Environmental Justice Advisory Council, and Regional NGO/Agency workshops with the EPA.
Recent Accomplishments
News Release: Environmental Justice Advocates Celebrate Victory as Lawsuit Settlement Directs EPA to Protect Communities from Chemical Spills.

KABC-7 ABC TV in Los Angeles 

aired this story

 about the

 Campaign for Healthier Solutions

 event at 99 Cents Only national HQ yesterday.

New report on chemical disasters released May 1, 2014 - Who's in Danger? Race, Poverty, and Chemical Disasters. 

Click here

 for more and to read the full report.

Supported local organizing and campaigns in many states, including Alaska, Louisiana, Texas, Kentucky, New Mexico, California, and Delaware. After more than a decade of struggle, Mossville, Louisiana residents won a commitment for relocation from the toxic fenceline of Sasol.
Released a national opinion poll documenting strong majority support for requirements to use safer chemicals and processes.
Presented to the National Environmental Justice Advisory Council; Good Jobs, Green Jobs; the National Black Farmers Association; the NAACP; at churches, universities, retreats, and other venues.
Organized fenceline and environmental justice community group engagement in the safer chemicals "Stroller Brigade" on Washington.
Sponsored "Healing the Homelands," an event to bring community people from across the country into a shared space with White House staff, Agency staff, philanthropists, and mainstream and environmental justice groups in Washington, DC.
Hosted a national EJ Encuentro (meeting) to build collaboration and plan strategy, tactics, and communications.
Held two "Four Directions Youth Trainings" focused on inter-generational organizing.
Won a groundbreaking Presidential Executive Order on chemical plant disaster prevention with our partners in the Coalition to Prevent Chemical Disasters.
United Environmental Justice and community groups on flame retardant, cosmetics, and other product exposure campaigns.